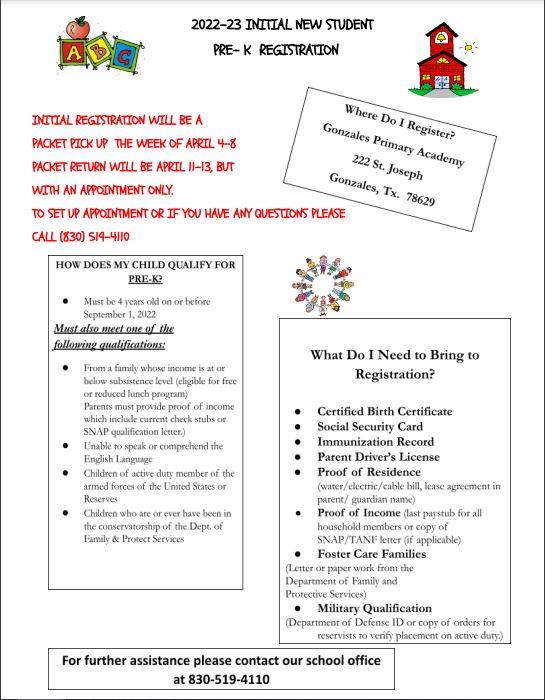 Tuition-Based Pre-Kindergarten Program
Gonzales ISD is excited to announce that we will continue to offer a full-day Prekindergarten Program (PK) to ALL students for the 2022-2023 school year. In the past, GISD's PK Program was only offered to students who met the state mandated eligibility criteria and students of GISD staff members. For the second year, GISD is providing the opportunity for all students to attend full day PK.
The state of Texas funds half-day PK programs to those that qualify based on state mandated eligibility requirements, unlike grades Kindergarten through 12th grade where the state of Texas provides funding for all students to attend school free of charge.
Based on the state guidelines, students who meet the following criteria are provided the opportunity to attend PK free of charge. The criteria include:
- students 4 years of age by or on September 1 of the current year,
- unable to speak and comprehend the English language,
- students who are educationally disadvantaged,
- homeless,
- a child of an active duty member of the armed forces of the United States,
- or a child who has ever been in the conservatorship of the Texas DFPS (foster care) following an adversary hearing, or is a child of a person eligible for the Star of Texas Award.
To provide the educational services to students not meeting the state mandated qualifications, all districts including GISD have the opportunity to create a non-profit tuition-based program. With the Texas Education Agency (TEA) guidance, districts are provided the opportunity to develop a tuition cost that is comparable to other programs as well as to ensure the district does not financially profit from the program.
GISD will be accepting PK applications for ALL students beginning in April. Registration packet pick-up is scheduled for April 4th-8th from the Gonzales Primary Academy office. Packets will be returned with an appointment only to the campus on April 12th-14th. During the registration process, it will be determined if children qualify for PK free of charge based on the above TEA qualifications. If a child does not qualify for free of charge PK, parents will have the opportunity to apply for the "tuition-based" PK program. The tuition-based program will have limited seats and students will be considered on a first come first serve basis. During this time, the tuition-based contract and guidelines will be provided to parents.
We are so fortunate to provide the opportunity for ALL students to experience PK as an Apache for another year.
For more information and/or to set up an appointment to return a registration packet, please contact Gonzales Primary Academy office at (830) 519-4110.