Educational Journey Never Stops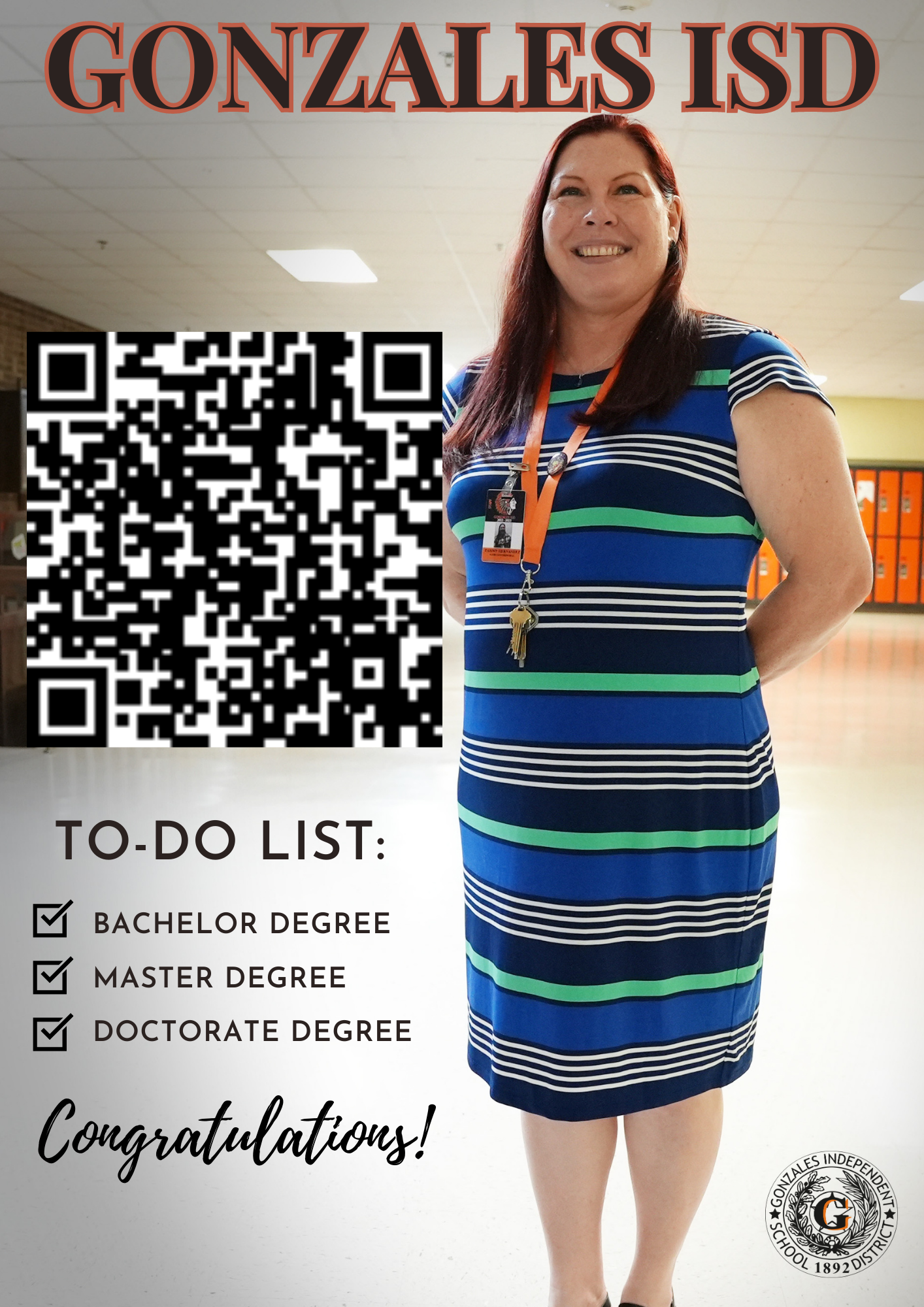 Read the magazine here: http://magazine.gonzalesisd.net/books/hagj/
Educational Journey Never Stops
Dr. Tammy Hernandez's educational journey was far from typical; her determination and goal of getting her doctorate in education never ceased and led her to achieve her dream. Dr. Hernandez, current Gonzales High School Assistant Principal, shares her story to inspire others.
Her road to reaching her dream was challenging. The 49-year-old assistant principal says there was a season in her life when she had hit rock bottom. Hernandez, with a bachelor's degree under her belt, says she went through a divorce, became a single mother, remarried, and several years later found herself raising four teenagers after her second husband passed away. Money was tight, but she tried not to let her kids know times were tough. During her most challenging moments when income was barely streaming in, she realized she never wanted to be in a situation where she had to rely on others to provide for her family.
"It was important to show my children to be ready to stand on your own two feet and take care of your family," says Hernandez, who learned to advocate for herself and her family.
Eventually, Hernandez found what she had been searching for - stability. She leaned on her faith and returned to school to get her doctorate.
Apple Doesn't Fall Far From the Tree
At 16 years of age, Dr. Hernandez's father passed away, and her single widowed mother raised her. She witnessed her mom never give up and make education a priority. In 1991, the duo marked a milestone they would never forget. Both donned a cap and gown and walked across the stage at their graduation commencement ceremony, Dr. Hernandez from high school and her mother from college. Driven by grit and determination, the soon-to-be teacher enrolled in a university that would shutter its doors after spending thousands of dollars and 21 precious credit hours poured into that educational institution. This educator overcame adversity and pushed herself to continue during hard times. Hernandez found another university that accepted her credits, and after three and a half years, she reached her dream.
Gonzales ISD Bound
After spending eight years in a classroom setting, Dr. Hernandez found a promising future as an administrator at Gonzales High School.
"I loved being in a classroom, but I knew I could be more effective if I could reach a wider audience than just my class," said Dr. Hernandez.
The new high school administrator is getting used to her new professional title and is encouraging Apaches to never give up on their dreams.
—Español---
El viaje educativo nunca se detiene
El viaje educativo de la Dra. Tammy Hernandez estuvo lejos de ser típico; su determinación y meta de obtener su doctorado en educación nunca cesó y la llevó a lograr su sueño. La Dra. Hernández, actual subdirectora de Gonzales High School, comparte su historia para inspirar a otros.
Su camino para alcanzar su sueño fue desafiante. La subdirectora de 49 años dice que hubo una temporada en su vida en la que tocó fondo. Hernández, con una licenciatura en su haber, dice que se divorció, se convirtió en madre soltera, se volvió a casar y varios años después se encontró criando a cuatro adolescentes después de que su segundo esposo falleciera. El dinero escaseaba, pero trató de que sus hijos no supieran que los tiempos eran difíciles. Durante sus momentos más desafiantes, cuando los ingresos apenas llegaban, se dio cuenta de que nunca quería estar en una situación en la que tuviera que depender de otros para mantener a su familia.
"Era importante mostrarles a mis hijos que estaban listos para valerse por sí mismos y cuidar de su familia", dice Hernández, quien aprendió a defenderse a sí misma ya su familia.
Finalmente, Hernández encontró lo que había estado buscando: estabilidad. Se apoyó en su fe y volvió a la escuela para obtener su doctorado.
Apple no cae lejos del árbol
A los 16 años de edad, el padre de la Dra. Hernández falleció y su madre viuda soltera la crió. Fue testigo de cómo su madre nunca se rindió y hizo de la educación una prioridad. En 1991, el dúo marcó un hito que nunca olvidarían. Ambos se pusieron una toga y birrete y cruzaron el escenario en su ceremonia de graduación, la Dra. Hernández de la escuela secundaria y su madre de la universidad. Impulsado por el coraje y la determinación, el futuro maestro se inscribió en una universidad que cerraría sus puertas después de gastar miles de dólares y 21 valiosas horas de crédito invertidas en esa institución educativa. Esta educadora superó la adversidad y se esforzó por continuar durante los momentos difíciles. Hernández encontró otra universidad que aceptó sus créditos y, después de tres años y medio, alcanzó su sueño.
Con destino a Gonzales ISD
Después de pasar ocho años en un salón de clases, la Dra. Hernández encontró un futuro prometedor como administradora en la Escuela Secundaria Gonzales.
"Me encantaba estar en un salón de clases, pero sabía que podría ser más efectivo si pudiera llegar a una audiencia más amplia que solo mi clase", dijo el Dr. Hernández.
La nueva administradora de la escuela secundaria se está acostumbrando a su nuevo título profesional y alienta a los apaches a que nunca abandonen sus sueños.