Apache Graduation Day Details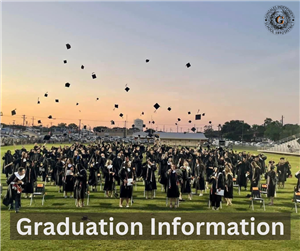 Graduation - Friday, May 26, 2023 at 7:30pm at Apache Field. Gates will open at 6:30 p.m. In case of inclement weather, graduation will be held in the new gym. Tickets will be required; the number of tickets each graduate receives will be determined based on class size and maximum occupancy in the gym.
Practice will be held on Friday morning at 8:30am on the field. Students who do not come to practice, cannot participate in the ceremony. Students must be clean shaven at practice or they will be sent home to shave. Wear shorts and tshirts, caps and sunscreen and bring water; it gets hot. It is a good idea to bring the shoes you want to wear that night to practice in.
Dress code for the graduation ceremony - GISD dress code applies to all students. Graduation is a formal ceremony and students should dress appropriately for this special event. Blue jeans, shorts, clothes with holes, revealing tops, skirts or dresses, athletic shoes, and flip flops are not acceptable attire. Pants must be solid colored, shirts must have a collar; ties are optional. Dresses/skirts must be modest and reach the top of the knee when sitting.
Facial piercings must follow the GISD dress code - earrings and nose studs are the only piercings acceptable.
Mortarboards cannot be decorated.
Graduates need to report to the new gym at 5:30pm, dressed for the ceremony. Dress code will be checked. If a student is out of dress code, a parent will be called to bring appropriate clothes.
Honor cords presented by a school-sponsored organization, CCMR medals from Mrs. Cox , military enlistment stoles, and NHS collars are the only regalia that may be worn over the gown; memorial ribbons can be worn under the gown.

A class picture will be taken before we load buses to travel to the field.

Graduates will enter Apache Field from the north entrance, and exit from the south.

DO NOT bring anything to school. Keys and phones will be collected prior to getting off the bus at the field. Once you exit the field after the ceremony, your phone and keys will be returned to you.
Graduation guest- No outside food or drinks allowed, bottled water is fine. Please be mindful of those around you. Please do not bring large signs, balloons, and other items that may obstruct the view of guests. For safety concerns, please do not bring air horns or other loud noise makers. Your students will meet you at the south exit. No one will be allowed on the field after the ceremony. Your students will be able to tell you what side they are entering & exiting from after practice on Friday morning.
Graduation will be live streamed, information will be shared out prior to the ceremony.
If your child drives to high school, they are responsible for getting back to campus. Buses will not be available after the ceremony.
Project graduation- if you are attending you will need to meet Ms. Ervin on the back patio at 10pm.
If you have any questions, please contact Ms. Ervin jennifer.ervin@gonzalesisd.net or Ms. Waddell eve.waddell@gonzalesisd.net.
---Español---
Graduación: viernes 26 de mayo de 2023 a las 7:30 p.m. y las puertas abren a las 6:30 p.m. en Apache Field. En caso de mal tiempo, la graduación se llevará a cabo en el nuevo gimnasio. En este caso, se requerirán boletos; la cantidad de boletos que recibe cada graduado se determinará según el tamaño de la clase y la ocupación máxima en el gimnasio.
La práctica se llevará a cabo el viernes por la mañana a las 8:30 am en el campo. Los estudiantes que no vengan a practicar, no podrán participar en la ceremonia. Los estudiantes deben estar bien afeitados en la práctica o serán enviados a casa para afeitarse. Use pantalones cortos y camisetas, gorras y protector solar y traiga agua; hace calor. Es una buena idea traer los zapatos que desea usar esa noche para practicar.
Código de vestimenta para la ceremonia de graduación: el código de vestimenta de GISD se aplica a todos los estudiantes. La graduación es una ceremonia formal y los estudiantes deben vestirse apropiadamente para este evento especial. Los pantalones de mezclilla, los pantalones cortos, la ropa con agujeros, las blusas, las faldas o los vestidos reveladores, los zapatos deportivos y las chancletas no son aceptables. Los pantalones deben ser de un solo color, las camisas deben tener cuello; los lazos son opcionales. Los vestidos/faldas deben ser modestos y llegar a la parte superior de la rodilla al sentarse.
Las perforaciones faciales deben seguir el código de vestimenta de GISD: los aretes y los aretes en la nariz son las únicas perforaciones aceptables.
Los birretes no se pueden decorar.
Los graduados deben presentarse en el nuevo gimnasio a las 5:30 p.m., vestidos para la ceremonia. Se verificará el código de vestimenta. Si un estudiante está fuera del código de vestimenta, se llamará a un padre para que traiga la ropa adecuada.
Los cordones de honor presentados por una organización patrocinada por la escuela, las medallas CCMR de la Sra. Cox y los cuellos del NHS son las únicas insignias que se pueden usar sobre la toga; las cintas conmemorativas se pueden usar debajo de la bata.

Se tomará una foto de clase antes de cargar los autobuses para viajar al campo.

Los graduados ingresarán a Apache Field desde la entrada norte y saldrán desde el sur.

NO traiga nada a la escuela. Las llaves y los teléfonos se recogerán antes de bajarse del autobús en el campo. Una vez que salga del campo después de la ceremonia, se le devolverán su teléfono y las llaves.
Invitado a la graduación: no se permiten comidas o bebidas externas, el agua embotellada está bien. Por favor, tenga en cuenta a los que le rodean. No traiga letreros grandes, globos y otros artículos que puedan obstruir la vista de los invitados. Por cuestiones de seguridad, no traiga bocinas de aire u otros ruidos fuertes. Sus estudiantes se reunirán con usted en la salida sur. No se permitirá a nadie en el campo después de la ceremonia. Sus estudiantes podrán decirle de qué lado están entrando y saliendo después de la práctica el viernes por la mañana.
La graduación se transmitirá en vivo, la información se compartirá antes de la ceremonia.
Si su hijo maneja a la escuela, es responsable de regresar al campus. Los autobuses no estarán disponibles después de la ceremonia.
Graduación del proyecto: si asiste, deberá reunirse con la Sra. Ervin en el patio trasero a las 10 p.m.
Si tiene alguna pregunta, comuníquese con la Sra. Ervin jennifer.ervin@gonzalesisd.net o la Sra. Waddell eve.waddell@gonzalesisd.net.